Marrakesh is a beautiful city filled with culture and exotic places for everyone to indulge in.
Travel to Marrakesh and stroll through the historic part of the city, full of character and intricately connected alleyways stuffed with vendors and stalls. The charm of the city, said locals, is to always be lost. So wander around and explore Marrakesh with your partner.
One of the most famous movies to ever filmed here is 2010 Movie, "Sex and The City 2"! Maybe you and your partner could rewatch it before flying off to Marrakesh.
Here are 7 things you and your partner can do in Marrakesh for the perfect romantic getaway. 
Stay in a Riad
The medinas (old cities) of Marrakesh have the most exotic places to stay in a traditional Riads. Play out your Arabian Nights fantasies from the rooftop of the lavishly decorated Riads as these Moroccan courtyard turned homes are an ultra-romantic hideaway and is ideal for honeymooners.
Stroll around Jardin Majorelle
Away from the noise and bustle of the souks and the Medina, the Jardin Majorelle is an oasis in the middle of Marrakesh's busy streets. Enjoy a romantic stroll in this premise where paths are shaded by palm trees, exotic plants and traditional architecture in every corner. Find a bench to take your time soaking in the beauty.
Experience a Hammam
In every town and city in Morocco, you'll find a public Hammam (bathing house). Experience the authentic Morroco's bathing tradition with your partner in these bathing houses where you can douse yourself with varying temperatures of water from buckets, then settle in for a scrub-down. You and your partner will leave the Hammam feeling reborn.

Buy your anniversary presents at the Marrakesh Souk
These open-air markets includes hundreds of individual stalls that sell a collection of goods such as spices, handmade trinkets, fabric, carpets, handmade trinkets and so much more.
Get ready to haggle with the stall owner and find souvenirs to bring back home to give to your family and friends!

Learn to Cook Moroccan Style
Test your taste buds and cooking skill by learning how to cook just like the Moroccans do. Learn to cook a classic chicken and lemon dish in the traditional cone-shaped clay vessel called a tagine during these useful cooking classes. Taste Morocco's diverse cultural mix and spices in your cooking class.
Pretend to be Royalty at Bahia Palace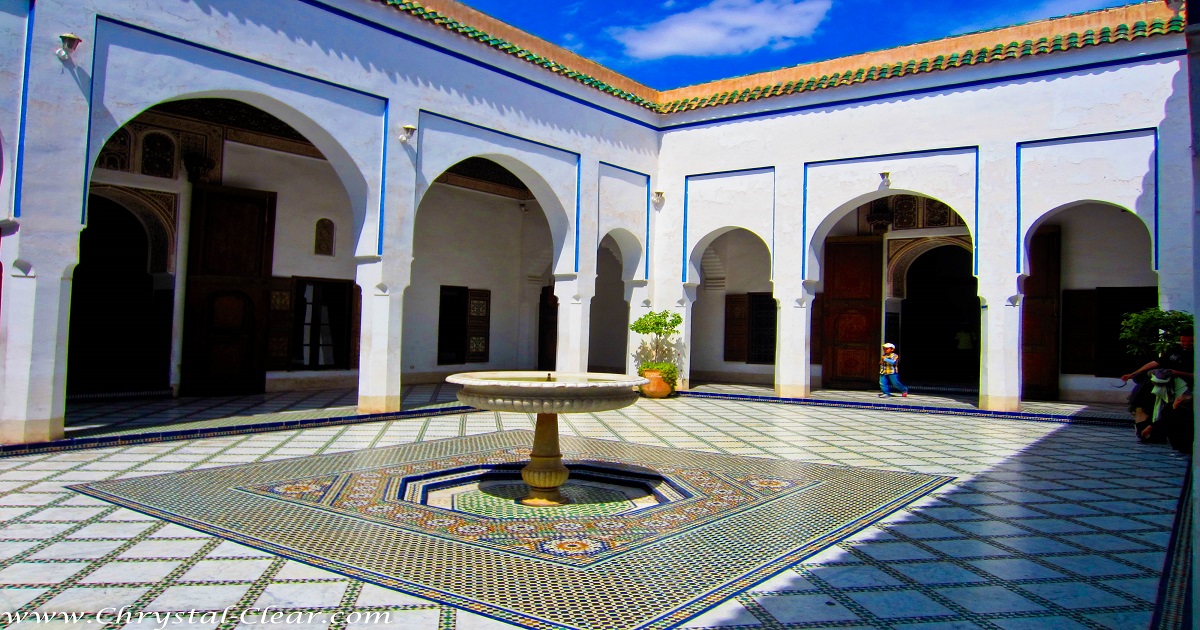 A splendid place to take photos, the Palace also caters to history and culture buffs. The Bahia is an ideal place to soak up the best of Marrakech's architecture. Plus is so close to the souks so why not just pay a visit to Bahia Palace, stroll around the garden and observe the arching courtyards, heavy wooden doors, and complex mosaic floors
Spend a Night in the Sahara Dunes
Watch the sunset across the dunes before settling into the tented oasis camp to listen to live Berber music, feast on stew-like vegetable tagine. Stay in a warm tent with your partner while you camp under the starry Sahara sky. Remember to take a morning hike the day after and a gaze at the sunrise you will sure to remember.
There are so many other attractions in Marrakesh that is suitable for your romantic getaway. Check out all these swoon-worthy photo opportunities you can take with your partner. Its probably a good time to propose with these amazing background. They might even say Yes!
Download the mobile app www.nuflit.com/app to find a local to help you around and if you don't have anyone to go to Marrakesh with, perhaps a local companion with suit you.
Below are some locals who can bring you around Morocco. Tap the image below or www.nuflit.com/d/morocco to find out more!
BLOG COMMENTS POWERED BY DISQUS